July 12th to 18th 2020
La Valle d'Itria, Puglia, Italy
Teachers - Christian (Made in Puglia =) & Chloé
Puglia is one of our favorite Italian regions packed with history, culture and of course, delicious food! Come join us for the ultimate summer getaway and enjoy daily yoga, explore white washed towns, eat delicious food and bathe on pristine beaches.
Puglia is one of Italy's more hidden gems located right on the heel of the boot. The area however is becoming a more popular tourist destination as people discover the charms of this area: incredible baroque towns, the traditional 'trulli' houses, olive groves, orchards bursting with colours, blue seas, white sandy beaches and outstanding cuisine.
Our destination in Puglia will be La Valle D'Itria, home of the 'Trulli' houses and the beautiful town Alberobello a UNESCO World Heritage Site. Nestled in the heart of this beautiful area will be our own trulli house for the week, with its own pool, comfortable beds, vinyards and outdoor yoga space.
For a better idea of Puglia take a look at Oliver Astrologo's amazing video summing up this stunning region. He says:
"They don't call Italy "Il bel paese" - "The beautiful country" - for nothing... Casting a glance over it, one will notice that Italy - and Puglia in particular - boasts an enviable number of locations. With numerous UNESCO sites, pristine beaches, and enchanting destinations, it was difficult to restrict such beauty into a 2 minute video."
Also for a better idea of our retreat take a look at our Puglia Yoga Retreat video from 2017 above. 2018 memories coming soon. =)
Chloe and Christian will lead you through a week of invigorating and relaxing yoga. The yoga classes will be tailored to suit all levels. As Christian was born and bred in Puglia you will enjoy the best of the area as seen by a local!
The yoga holiday will include:
Daily Yoga classes
Daily Meditation
2 workshops
Daily breakfast and delicious farm to table dinners with vino della casa
Several Day trips to the most picturesque towns of the region
A visit to the stunning Natural Reserve Torre Guaceto beach with bathing in the crystal clear ocean
A Cooking Class to teach you to bring some of Puglia back with you.
Access to the grounds and pool
6 nights accommodation at Masseria Ferri (all linens and towels included)
Not Included:
Massages (80 Euros)
Lunches
Flights
The practice:
The yoga space at Masseria Ferri is stunning under vaulted ceilings. We will practice daily with a 2 hours morning asana and meditation practice and a 1.5-2 hour afternoon practice. We will also have two workshops throughout the week to bring your deeper into your practice.
Around Yoga:
We will be taking several day trips to the most stunning parts of Puglia. The region has several beautiful little towns with their characteristic white washed walls. It also is home to some of the most stunning coastline and beaches in Italy. Here are some of the day trips we have done in the past:
A day trip to Ostuni the white town and then down to the natural reserve of Torre Guaceto that has some of the most beautiful water to swim in.

An afternoon spent in the UNESCO World Heritage Site of Alberobello which has the highest concentration of Trulli cones.

An afternoon in Polignano a Mare the stunning white washed city by the sea where Domenico Modugno was from, the original singer of hit Italian song "Volare".
Massages:
Massages are available on the retreat but not included. You can book a Thai Massage with Christian for €80. We suggest booking your spot in advance.
The Food:
The benefits of staying in a Masseria that has a running farm is fresh fresh fresh food! It doesn't get any better than that. All of the food is grown on the Masseria or bought from local markets. Everything taste delicious and you will be sure to want to go home with a bottle of wine made from the Masseria's grapes or their speciality cheese.
Meal served at the Masseria will be vegetarian and you will have plenty of opportunities to eat out throughout the week to taste some local gelato or other specialities. Dietary requirements can be taken into account but it is valuable to note that a lot of the meals will include some dairy and gluten. As these products are made locally, sourced from ethical farmers and with the highest quality ingredients they are wonderful to eat. =)
Cooking Class:
Part of the week is a local cooking class where the amazing kitchen staff at Masseria Ferri will teach you how to make fresh pasta and mozzarella. Yes!! A big plus is you get to eat it after for lunch.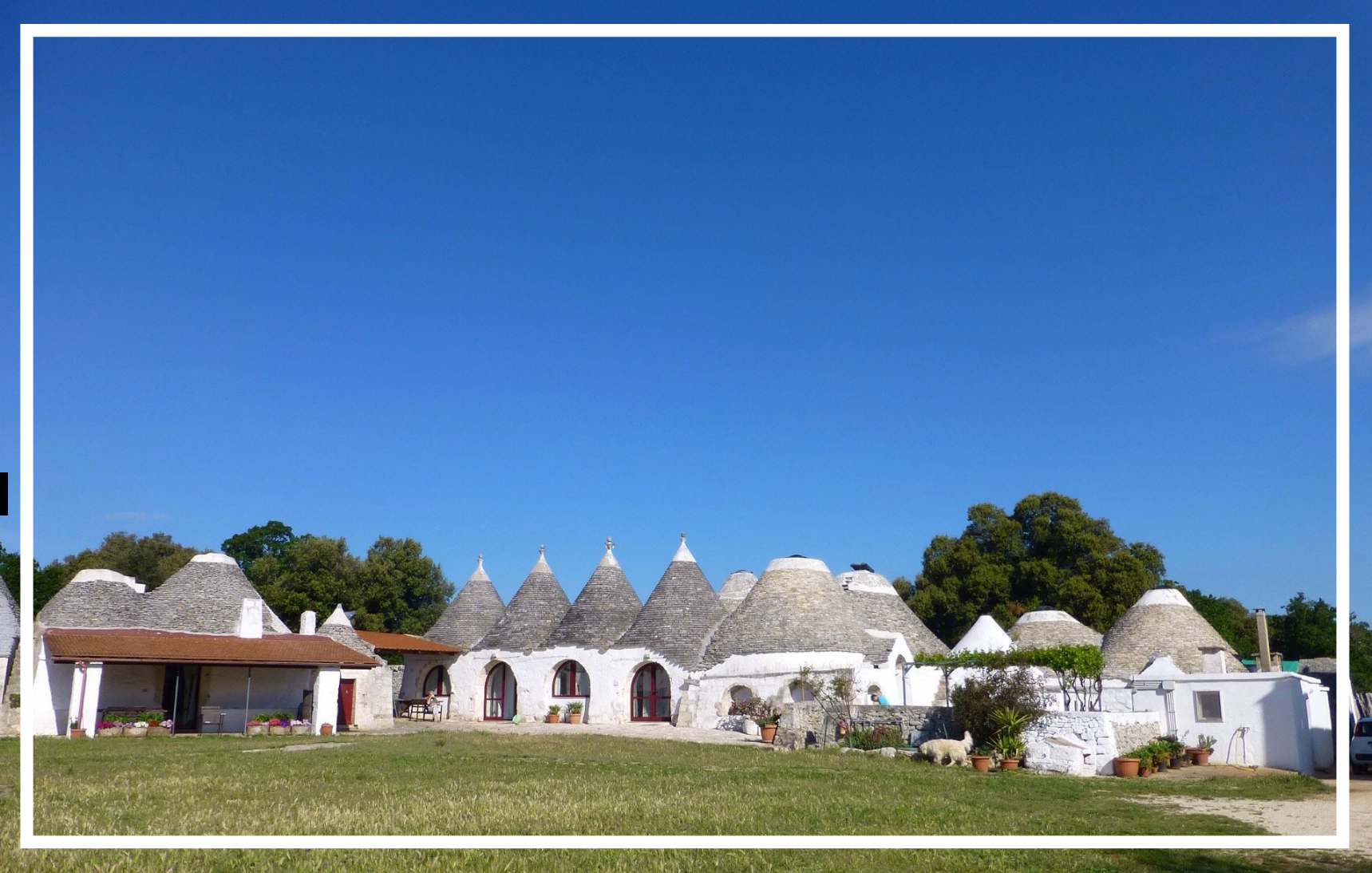 Masseria Ferri is an agriturismo in the heart of Valle d'Itria operating as a farm and producing its own gorgeous olive oil, wine and cheese. The most wonderful part of this beautiful place is that it is completely family run, with everyone taking great care of the land and their guests. Built in the 18th century the Masseria has been beautifully maintained by the Ferri Family to respect the unique architecture of Puglia. You will be able to roam the grounds surrounded by vineyards and experience the very culture that makes Italy famous around the world. Masseria Ferri has beautiful accommodation in the classic Trullis. You can choose between shared and private rooms.
Enjoy your own privacy in this magical Masseria. All accommodation is set up in traditional Trulli (cone homes). There is no air conditioning but the manner in which they are built is meant to combat the heat keeping the rooms deliciously cool.
$1800 all inclusive per person
If you are coming with some friends, a partner or just want to keep your costs a little lower share a Trulli. All accommodation is set up in traditional Trulli (cone homes). There is no air conditioning but the manner in which they are built is meant to combat the heat keeping the rooms deliciously cool.
$1430 all inclusive per person
The closest Airports are Bari and Brindisi. The Airport Shuttle will be to and from Bari as this airport serves more flights and they are generally cheaper. Shuttle time is 1 hour 20 minutes. A time frame applies to the pick up and drop off.