Journey to self practice through the 5 elements
Next dates to be released.
Devarya Wellness, Goa, India
Teachers - Chloé Porter & Christian Gentile
Come join us for beautiful Goan Sunsets, revitalizing yoga, incredible natural scenery, delicious healthy food and a wellness schedule aimed to energize you both mentally and physically.
This retreat is for the beginner to intermediate student and it's geared towards developing a personal Healing Yoga Practice, using and refining the skills that you already know, use what you will learn throughout the week, so that you can safely practice from home.
We are no strangers to India having met and worked there for many years. It is a magical place and trip that should be taken by anyone who has had the urge to go. As the birthplace of yoga there is something truly special about being able to practice here. With us you will be well looked after and taken on a fantstic journey of self discovery.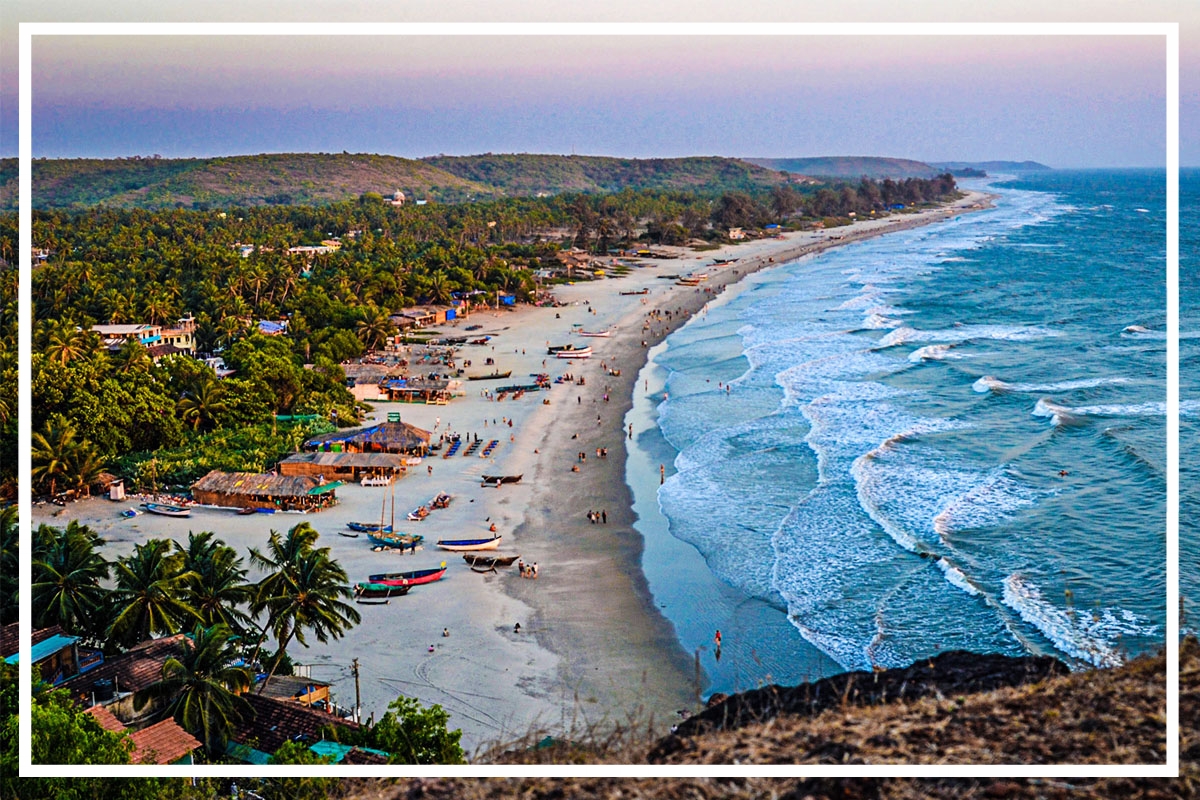 India is the perfect environment to work on your wellbeing. The natural surroundings encourage you to strip away all complications and allow your body and mind to adopt a simpler lifestyle bringing you back to yourself.
Goa has been called "India's little sunshine state" with beautiful sandy beaches, vibrant markets and coconut grows. The general hustle and bustle of Indian life slows down here to make way for long walks along the ocean, peaceful meditation sessions and plenty of sun time.
We will be staying in North Goa in a beautiful little spot called Morjim Beach. Our home for the week will be Devarya Wellness a lovely retreat centre set up by our friend Chandra. From Morjim you can walk up the beach towards the beautiful little towns of Ashvem and Mandrem (where we used to live =). Or South down to Anjuna to check out the market.
Above check out a video we liked made of Goa to give you a little idea.
In our modern society it has become normal to live a very fast paced lifestyle and wellness breaks are becoming more and more essential. To make the most out of your retreat the schedule and yoga practice has been purposely thought out to leave you feeling healthier and happier giving you essential tools to integrate a more balanced lifestyle upon your return.
Your yoga holiday will include:
Puja (ritual opening ceremony)
Daily Yoga Asana Classes
Daily Pranayama & Meditation
Daily Brunch and Dinner
Filtered Drinking Water & Tea available all day
Sunrise Dolphin Watching Trip
Trip to the Night Market (souvenir time!)
One Massage
7 Nights Accommodation at Devarya
Gift Bag
Transfer to and from airport (terms apply)
Not Included:
Airfare
More Spa Treatments… India is the land of affordable massages!
Visa
The Practice:
This retreat will take your practice and comprehension of Yoga to the next level. We will be delving deep into our practice in India starting every morning with Meditation & Pranayama followed by Yoga Asana practice. The morning practice will be orientated towards cleansing, strengthening and toning the body and the evening will be geared towards restoring and deeply stretching the body. Check out our sample daily schedule below:
7.30 am Pranyama & Meditation
8 - 9.30/10 am Yoga Asana Practice
10 - 11 am Brunch Buffet
11 - 5 Free time and/or Excursions
5 - 6.30/7 pm Evening Practice
7 - 8 pm Dinner Buffet
8 pm Evening Activities
All levels are welcome on this retreat but we will not be going over the very basics. If you are a beginner and would like to book, no problem =) Just make sure you start attending regular Yoga Classes before you leave. We will be delving deep into our practice both physically and mentally and there will be levels available for all. You will return feeling freer in your body and in your mind.
Part of the magic of Goa is the element of slowing down, taking long beach walks, enjoying your practice, eating good food, resting and meditating. That being said there is a lot of fun to be had around Goa as well...
The Nature: Goa has a unique and mystical kind of nature. It is full of long beaches, stunning trees and the ocean is home to many dolphins. We love to paddle board, surf (easy beginner waves), hike and swim. Included in your retreat is a beautiful sunrise dolphin trip. This has always been a highlight of our time in Goa. Morjim (where we will be staying) is a famous nesting beach for Oliver Ridley Turtles. We may get lucky and expereience a hatching!
The Markets: India is home to some of the most beautiful markets in the world. You can find incredible spices, beautiful fabrics, jewelry, incense, semi precious stones, instruments, fruits, vegetables, hammocks, clothes... the list goes on! We will be visiting a couple beautiful beach towns will lovely markets to discover and for those of you who are more adventurous we can venture into Mapusa for the locals market!=)
Spa Time: You do have one massage included in your time with us but India is know for incredible and affordable body work! Treat yourself to a few massages while you are away to come back even more relaxed.
Our home for the week will be Devarya Wellness Retreat Centre down in Morjim Beach, North Goa. Devarya is just held back from the beach in a lush jungle like setting. It is set up with beautiful yoga shalas, comfortable accommodation and two stunning pools to relax and cool off during the warm Indian days. There will be a few other retreats while we are there so you will get a wonderful community feel.
Morjim Beach is home to the Oliver Ridley Turtle nesting center. Nesting season is between November and April for this beautiful endagered animal. You may be able to witness some hatchings as the incubation time for the eggs is 45-5 days.
One minute walk from Devarya, across the road, is Chia Cafe, Devarya's restaurant. Here in front of the beach we will be eating all of our meals and hanging out on the sun loungers to soak up the sun.
All the meals are served buffet style and are vegetarian with many vegan options. There is fresh drinking water as well as tea available all the day. Tea options are delicious chai masala tea which is drunk daily in India as well as fresh lemon and ginger tea. This is perfect for you to freshen up as you make the most of the sun loungers.
Once you have decided join us in India a non-refundable deposit of €500 ($600) will hold your space. There is a variety of beautiful accommodation at Devarya from which you can choose. You can always change or upgrade your room closer to the retreat date (as long as it it available). Feel free to email us for any other questions you may have. =)
If you are ready to book click on the link below to book your spot! We cannot wait to see you in India. =)
All the Chakra Standard Rooms are located in the main building opposite the leisure pool. They all have comfortable beds, a private bathroom, storage area, fans and air conditioning (more photos coming).
Normal Prices (Valid from November 1st 2018)
Chakra Standard
Double: €1220
Single: €1470
Chakra Cottages
The Chakra Cottages extend throughout the property surrounded by beautiful and lush vegetation. They have their own private balconys to enjoy the outdoors.
Our Chakra Cottage Juniors are smaller in size and have only a double bed (cannot be split), ideal for couples, lone travelers or friends who do not mind to share a bed. These rooms each have a private bathrooms, fan and air conditioning.
Normal Prices (Valid from November 1st 2018)
Chakra Cottages Junior
Couple (price for 2 people): €2600
Single: €1560
The classic Chakra Cottages are a little larger in size. The Chakra Cottages have comfortable beds (2 twin beds or 1 king), a private bathroom, chill out space, storage, fans and air conditioning.
Normal Prices (Valid from November 1st 2018)
Chakra Cottage
Double: €1470
Single: €1770
Getting there
You to Goa:
Goa is easily accessible by flight from most major Indian cities such as Delhi and Mumbai. In turn Mumbai and Delhi fly to many major cities throughout the world.

There are direct flights to Goa with Thomas Cook Airlines flying from major cities such as London, Manchester, Munich, Berlin, Paris...

Direct Flights to Goa can be found also from Doha and Dubai.

Airline companies to look at are Thomas Cook Airlines, Qatar Airlines and Air India.

If you are traveling from the US you will have to make a stop over in either Europe or the Middle East (such as Doha).
Airport to Devarya:
We will arrange the taxi ride from the Airport to Devarya and back. The taxi ride is around 2-2.5 hours and quite scenic.
Visa:
A visa is required to enter the country of India. We suggest you look into the visa application process along with your flights when you make the decision to come. All information can be found HERE. Please let us know if you have any questions.